One Planet
is my first solo exhibition in Ho Chi Minh city. In this show, i present the transformation of the ideas from 2D works to 3D installations.
One Planet is generously supported by the Danish Embassy in Hanoi's Cultural Development and Exchange Fund (CDEF).
Go To Market
materials: wood, plastic fruits, nylon bags, metal
, cotton.
dimensions: w:60cm - h:200cm - d:400cm
Nguyen Manh Hung's work is inspired by his experiences and observation of Vietnamese life. In "Go To Market", a jet plane hutles trhough the ground floor gallery, transformed from hi-tech war machine to scaled-down and meticulously constructed sculpture, at onece playful and harmless.
Betraying the artist's long-held fascination with militaristic images - his father was a fighter jet pilot - the surreal scene of fighter plane carrying nylon bags laden with shopping goods humorously morphs a symbol of destruction with conduits of hope, benevolence and joy.
(statement by Galerie Quynh)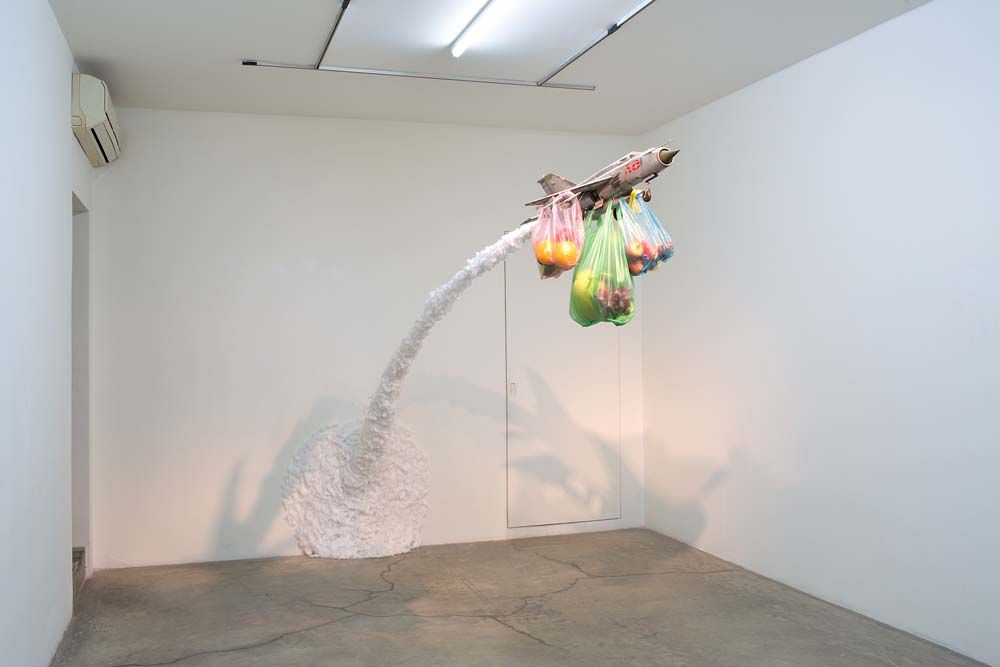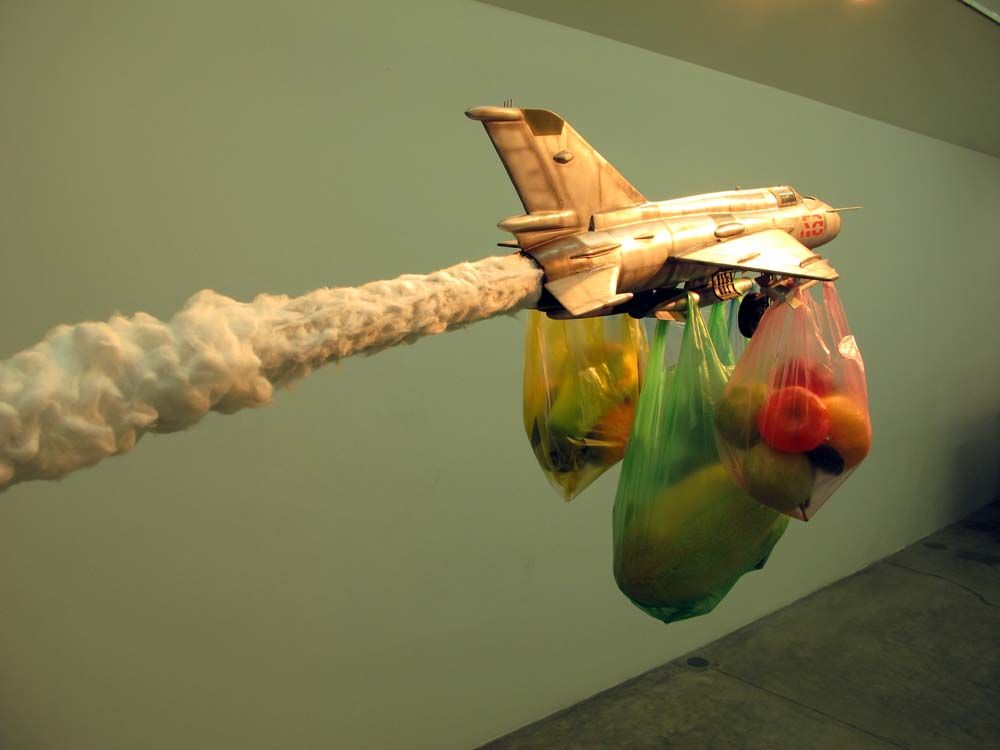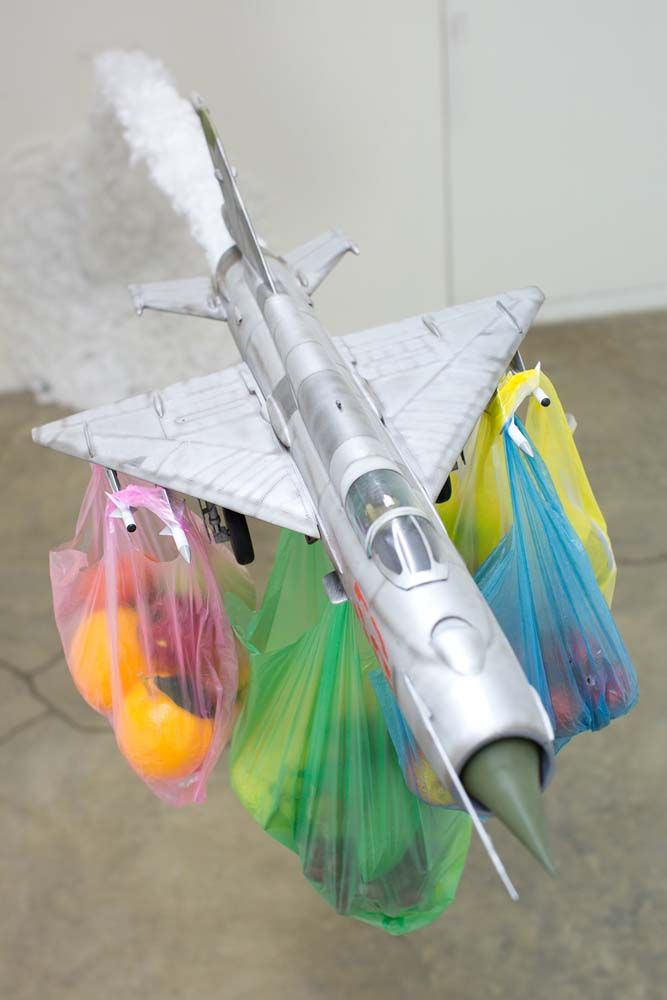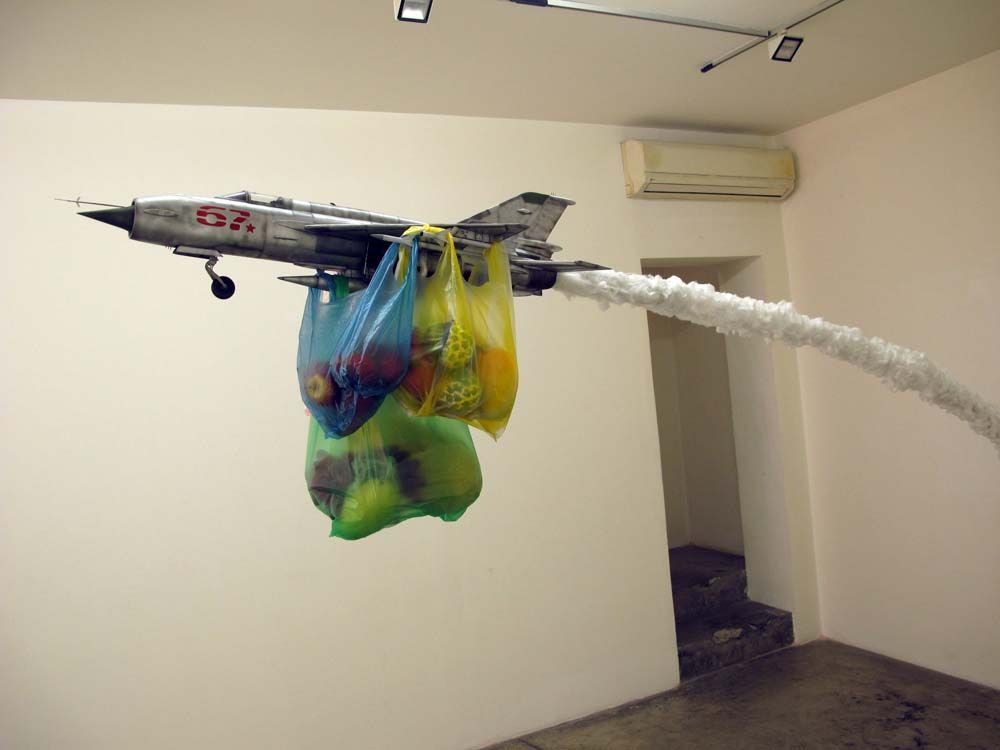 Keep My Planet Clean
materials: clay, fabric, metal, resin, plant-derived roots, plastic, acrylic paint.
dimensions: w:140cm - h:100cm - d:70cm
"Keep My Planet Clean" is a small diorama have been transformed from a painting i've made in 2012. With image of riot police torturing a pig, i would like to present a humorous situation about violence, there are including both brutality and stupidity.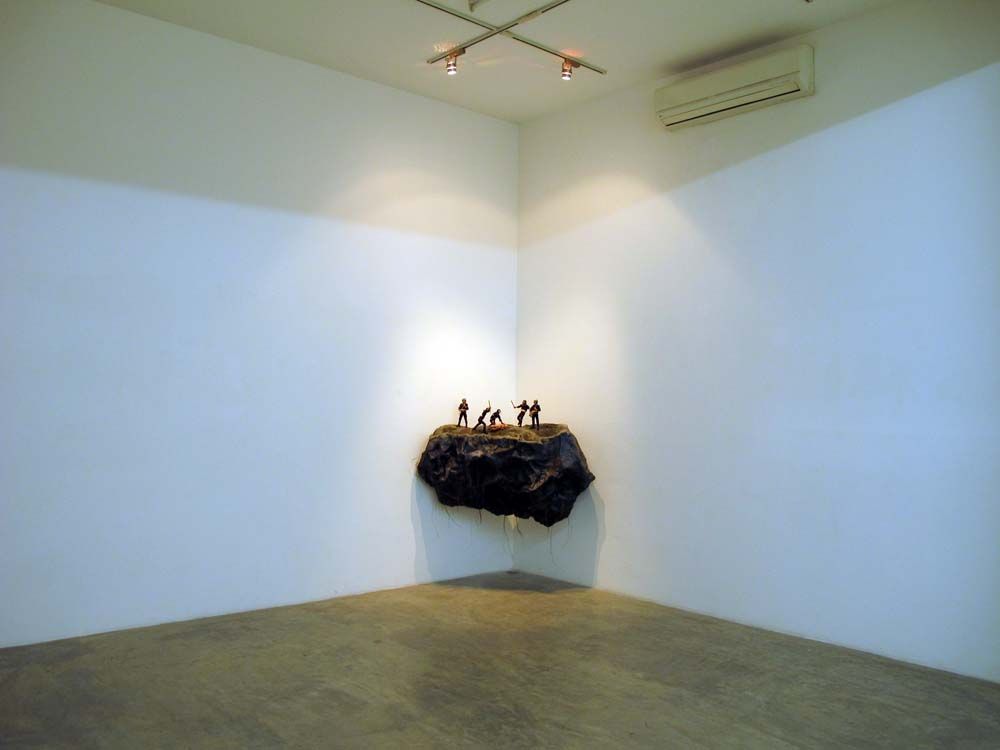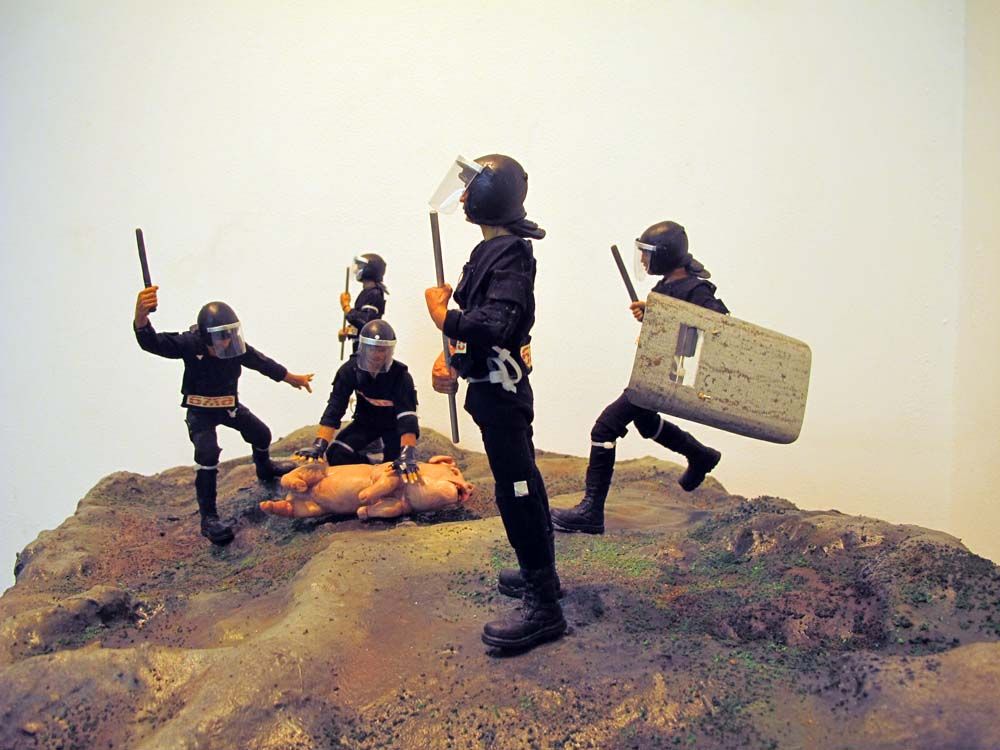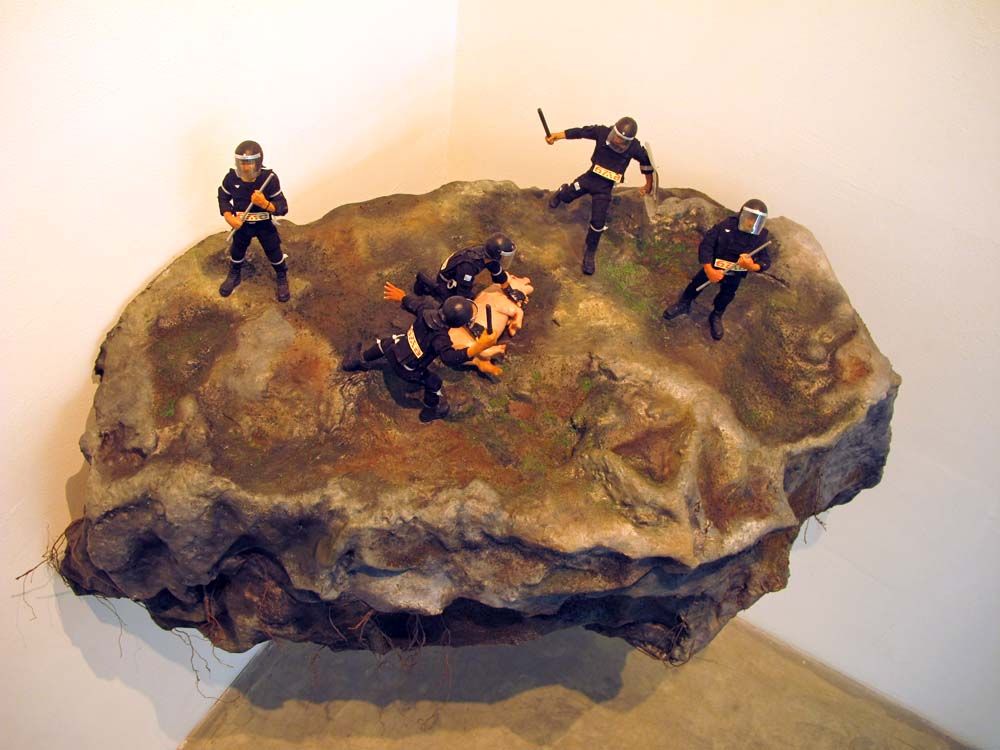 The Barricade
Materials: wood, paper, plastic, metal, nylon, LED lighting system, sawdust, canvas bags, sand.
Dimensions: w: 430cm - h: 220cm - d: 120cm
In the difficult time of the subsidized economy, a standard apartment is assigned to 2 or 3 families. They have to negotiate about dividing space to live together. If this family get bathroom then they have to cede the kitchen to other family, and sharing the toilet.
With cramped living conditions, lack of water, difficult economic… these families often have to expand the living space with the cage, self equipped with water pump and pipes, livestock poultry in the apartments to improve their life… Those are major factors that alter the shape and structure of the building as well as affect the habits and lifestyle of people.
Life in these buildings isn't life of the people in urban areas, but in the village. A high-rise village.
The history of Vietnam goes through the wars and who suffer the consequences of the bombing is the people of Vietnam.
In this work, i use the images that associated with Vietnamese such as apartment blocks and barricade to combine in one installation. It aims to present a perspective about war in the language of art.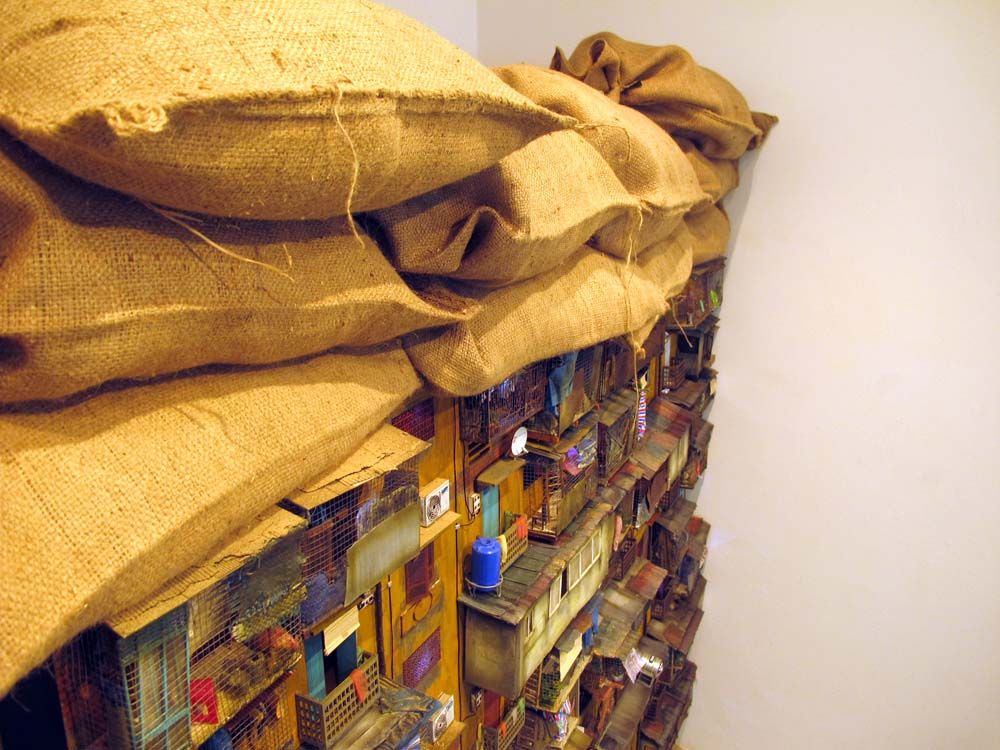 I've Been Here
Materi

als:

oil on readymade painting
Dimensions: 109cm x 178.7cm
Hanoi's cottage landscape painting industry serves as a platform to present the intersection of given realities with false, utopian panoramas. Often depicting romantic, imaginary sceneries comprised of snow-peaked mountain ranges, pristine rivers and lush pine forests, these fanciful worlds serves as rural setting for the artist's reality check, authoritarian figurenavigates

his grassy path like a cop on patrol.
"I've Been Here" forms part of a series of paintings the artist refers to as 'Mauvais Gout', which liter

ally translate as 'bad taste'

. Not only does the readymade painting - the mass-produced kitsch landscape painting - indicate a misguided aesthetic, so too the gold frame accentuates the brash presentation of the artwork. Given the presence of the security personnel strolling through the scene, the overall effect mirrors the tactless self-assertion of individuals who mismanage their pos

itions of power.